About Geelong Bridge Club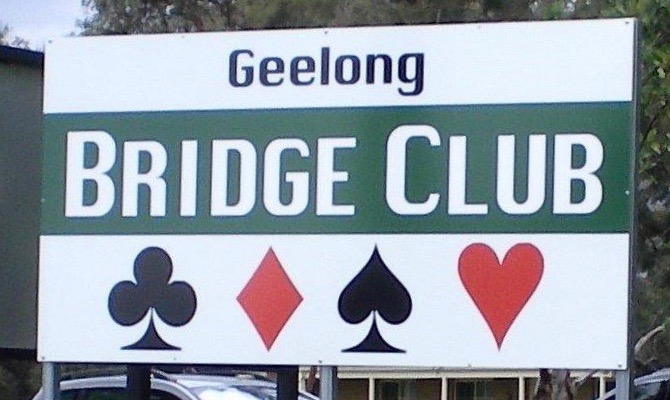 Club Rooms
Geelong Bridge Club
The club rooms are at
148 - 152 Portarlington Road,
Newcomb 3219.
PO Box 1546 Geelong 3220
Phone (03) 5248 2978
Geelong Bridge Club is situated in the east of the city approx. 75 km from Melbourne.
The Club owns its own facilities and provides members and visitors with a first class experience including a library and ample off-street parking.
The playing area has capacity for 20 tables and is air-conditioned.
Visitors are always welcome and a standby is rostered for most sessions.
GBC is an affiliated member of the Victorian Bridge Association, Club Number 3-360.
PLAY AT THE CLUB TO RESUME
Play at the clubrooms will recommence on Thursdays and Mondays at 12.30 PM, starting Jan 11 2021.
The cost for each session at the club will be $5 exact money.
Due to Covid 19 restrictions, we are limited to having 12 (twelve) tables, or 48 people playing.
We have implemented an online booking system.
All entrants must use this online system to book their place.
For details of how to book online, or find a partner,
click here
There will be no walk-ins allowed on the day of play.
Please be seated 10 minutes before start of play.
Online Play
Online bridge play will continue to be offered on Tuesdays at 1.00 PM.
Playing conditions will accord with the Geelong Bridge Club, Covid Safe Plan.
Online Bridge Results
To see Online Bridge results, click on 'About Us' in the menu at the top of this page and then 'Documents'.
FORTHCOMING EVENTS NEEDING PRIOR ENTRY
The Geelong Congress for 2020 is cancelled due to Covid-19.
LEARN TO PLAY BRIDGE
Beginners' classes are conducted twice a year by an ABF accredited teacher.
NEXT LESSONS
Two, 10 week series of lessons for beginners, will be offered at the clubrooms commencing
Monday Feb 8 at 7.00 PM
or
Thursday Feb 11 at 9.15 AM
Lessons will be conducted by an accredited trainer, Dot Read.
A certificate is awarded on course completion The series cost is $110.
To book, phone Dot Read on 0427626370 or
Email: dotgeoffread@gmail.com or phone 0427626370
PRESIDENT'S VISION FOR THE GEELONG BRIDGE CLUB
Vision for GBC
GEELONG BRIDGE CLUB NEWSLETTER
GBC Online Library
Club members are now able to borrow books from our library.
Collecting the book (books) will be by appointment only.
Download the catalogue by clicking
GBC Library Catalogue
To borrow a book(s), email gbclibrary148@gmail.com with your request.
In general the collection days will be the 1st and 3rd Thursday of each month.
The time is negotiable. 11 o'clock or 1 o'clock. The building is not open if there are no appointments.
When returning the book, there is a return chute on the side porch where books can be returned at any time.
P.S. Remember we also have jigsaws & fiction books.
Walking for GBC Members
GBC Walk Program