About Geelong Bridge Club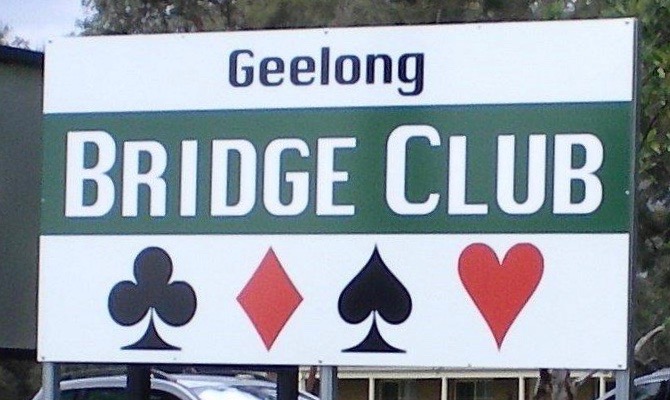 Club Rooms
148 - 152 Portarlington Road, Newcomb 3219. (Melways 239 B5)
PO Box 1546 Geelong 3220 Phone (03) 5248 2978
Geelong Bridge Club is situated in the east of the city approx. 75 km from Melbourne. The Club owns its own facilities and provides members and visitors with a first class experience including a library and ample off-street parking. The playing area has capacity for 20 tables and is air-conditioned. Visitors are always welcome and a standby is rostered for most sessions.
Daytime events are held on Mondays, Thursdays and Fridays and start at 12.30pm. Evening events are held on Wednesdays and start at 7.30pm. Monthly 'Pizza Sundays' start at 4.00pm. Please be seated 10 minutes before start of play.
ONLINE ENTRY TO CLUB EVENTS
Most events are 'walk-up' and no prior entry is required. However events such as teams usually require prior entry. This prior entry can be done either at the clubhouse or online.
To enter online simply go to Calendar on this site, double click on the appropriate event and follow the prompts.
FORTHCOMING EVENTS NEEDING PRIOR ENTRY
Monday 15 Oct, 22 Oct: Intermediate Pairs
Weds 31 Oct, 7 November: Open Pairs A Qualifying
Fri 2, Fri 9 November: Open Pairs B Qualifying
Tues 13, Tues 20 November: Open Pairs Final
Weds 5 December; Swiss Teams
Mon 10, Mon 17 December: Individual Championship
Fri 14 Dec: Duplicate : Nationwide Pairs
OTHER EVENTS
28 October, 25 November : Pizza Sundays
CHRISTMAS PARTY
Wednesday 19 December at 6.30pm. Important - please enter on the sheet provided in the Club Rooms.
LEARN TO PLAY BRIDGE
Beginner's classes are conducted several times each year by an ABF accredited teacher. The next classes start at 09:15am Thursday 11 April 2019. For more details contact Dot Read at dotgeoffread@gmail.com or 0427 626 370.
NEWSLETTER (click below)
August Newsletter
(GBC is an affiliated member of the Victorian Bridge Association, Club Number 3-360)